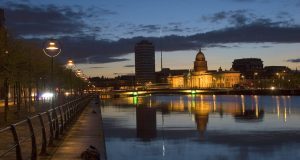 Premises
Sole traders operate nationwide in a variety of places depending on the nature of their business. Some start-ups begin their business at home and only require a premises when their enterprise expands. While other businesses need a workshop or office from the very start. If you are considering operating a business from home or leasing a premises we look at several options below.
Public places
Private outdoor venues open to the public
Your own business premises
Hired private premises
Sublets
Incubators
Online website
---
Public places
Public places are available to use for sales but are restricted by local councils. They provide places to where this can happen and how often you are allowed to sell. Check your local council's website for examples like below.
http://www.dublincity.ie/casualtrading
---
Private outdoor venues open to the public
MAST are a umbrella organization for market traders. They provide access to Liability Insurance for all traders.
They have the following:
•   Public or Products Liability €8m.
•   Employers Liability €15m.
•   Personal Accident Insurance Cover up to €25,000.
•   Start-up advice for new traders.
•   Help with writing business plans.
•   Assistance with Local Authority applications and other official forms.
•   Newsletter every Wednesday and Sunday.
They have a large list of markets available in all areas. Select a county from their drop down menu. http://www.mast.ie/Dublin.html
They also provide a market traders handbook. This explains all you need to know about the trade. Download here
---
Your own premises
Many small businesses start their operation from home. This will be the most cost effective way of keeping your expenses down. You will also need to consider the impact your business will have on your neighbours and community.
There are many unsuitable home run businesses. This could be dealing with chemicals or bringing in a high amount of people and traffic to your area. Here are some things you may need to consider.
Commercial planning permission
Capital gains tax
Insurance
Commercial planning permission
Commercial planning permission or business planning permission is required when operating a business. The use of a private residence for business can be subject to planning permission. This is known as a change of use planning permission. local authorities will not deny planning permission if there is no impact on neighbouring properties.
Capital gains tax
Some start-ups include a portion of their rent or mortgage as a business expense for tax purposes. They may also include building an extension to their existing property for their business however they may have to pay capital gains tax when selling their property. So this should be weighted up very carefully when deciding what to include your business expenses.
Insurance
Should you have Home or commercial insurance if you are working from home? Most homes have business equipment such as computers and printers. These will be covered under your home insurance policy but stock or business specific machinery will not.
---
Hired private premises
If you are thinking about leasing a commercial premise there are a number of areas you need to consider. Below is a list of terms and conditions you should be familiar with before you start.
The term is how long the lease is for.
You will need to see if it's you or the landlord that are responsible for the repairs.
If it's a full repairing and insuring lease. It will be you the tenant responsible for insurance.
Most business premises will need to be altered to suit the business. So you'll need the Landlord consent for this.
If you are going to lease to a 3rd party. This is called Alienation of the premises and you will need the Landlords consent.
Service charges may apply if there are any common areas attached.
Find out how often the rent is to be reviewed.
There is generally a personal guarantee and this should be well considered before signing.
Check to see if there are any break clauses in the lease.
Are you going to be liable for stamp duty and is the Landlord charging VAT.
---
Shared space
There are several sublets depending on the needs of your the business type .
---
Incubators
Incubators are available to new companies. They offer:
shared office spaces.
networking facilities.
mentoring opportunities.
some offer seed capital.
Accelerator programs are for growing businesses. They offer:
office space.
mentorship.
seed capital for a share of the business.
---
Online website
Web Hosting & Domain name.
Web development cost.
Import export procedure.
Web hosting & Domain name
Web hosting is space you buy on an internet server that can hold your internet page files. This can be charged monthly, or annually at a discounted rate. They normally charge for starter or business rates and offer. Below are some of the terms hosting companies use with their packages.
Websites allowed is the amount of websites you want them to host.
Domain registration is the friendly name to your website such as irishsoletraders.ie.
Disk space is the amount of space they will allocate for you on their server.
Bandwidth is the capacity of data flow to and from your website to the public.
It's worth shopping around for prices of Hosting companies and domain names. You could buy them from two places, domain name from one site and hosting from another. Be careful that your hosting company don't charge you to transfer your domain name to them. The disk space and bandwidth should not be a worry for most websites unless your using large video files.
Web development cost
Website development can be done yourself. There are many websites that offer easy to use development tools. This can save you money if your operating on a budget. Be careful because hosting and domain name costs are normally included with the self-build. So you might be stuck with an overpriced monthly bill from them.
A website developer could charge anything from €200 to €10,000 depending on the complexity of your website. The consultation to discuss the building of your website should always be free. So it won't do any harm to get a quote. Make sure you have looked at other websites in your business area. Bookmark or print similar sites to what you would like before the consultation. This will save you time and get a better result in the end.
Import & export procedure
If you are going to be importing goods to be resold locally or internationally. You should be familiar with the Irish customs procedures.
https://www.revenue.ie/en/customs-traders-and-agents/importing-and-exporting/import-export-and-postal-procedures/index.aspx